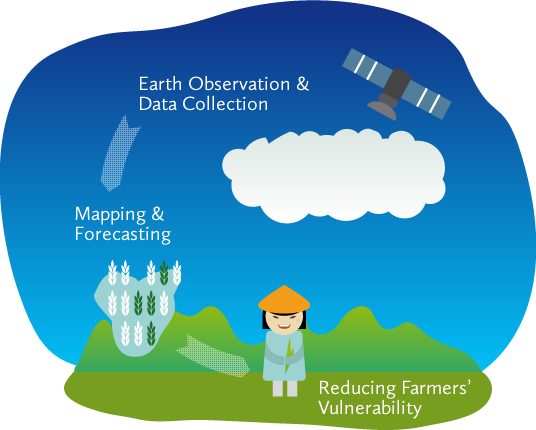 close X

Reducing Farmers' Vulnerability

The yield observation data as well as the yield forecasts can be used to better target food security programmes in those areas that are most likely to be affected by damaged crops. It also forms the basis for insurance companies to be able to monitor crop losses in a transparent and reliable manner, providing the basis to make crop insurance for smallholder farmers viable.

close X

Mapping & Forecasting

The satellite data is being processed by sarmap, a Lugano-based satellite technology start-up, decoded into a readable format and uploaded to a WebGIS portal accessible for the partners of RIICE in the respective countries. Simultaneously, RIICE partners are monitoring the rice crop on the ground at selected sites in each region to obtain field level information on rice crop growth and rice yield. IRRI takes these ground observations and correlates them with the SAR imagery to generate maps of planting dates and crop growth rates.
Find out more

close X

Earth Observation & Data Collection

Several satellites circle the earth on a weekly basis, taking data of the ground with a high resolution of up to 15 meters. Most of the satellites used for RIICE are equipped with a radar-sensor able to observe vegetation growth irrespective of cloud coverage. This is an important feature given that in incidences of flooding, the sky is often cloud-covered.