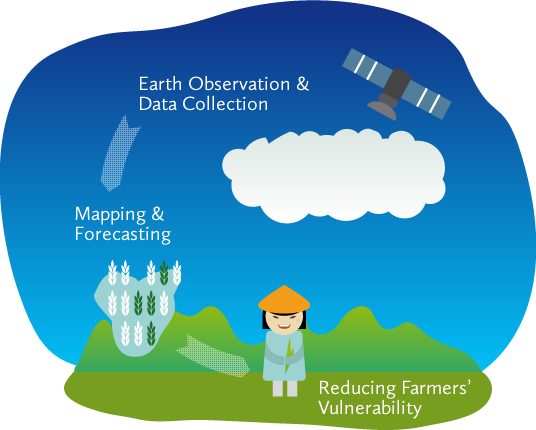 close X

Reducing Farmers' Vulnerability

The yield observation data as well as the yield forecasts can be used to better target food security programmes in those areas that are most likely to be affected by damaged crops. It also forms the basis for insurance companies to be able to monitor crop losses in a transparent and reliable manner, providing the basis to make crop insurance for rice smallholders viable.

close X

Mapping & Forecasting

The data-sets captured by the satellites are processed through a dedicated software that decodes the remote sensing data and makes them readable as maps. The key mapping and forecasting products that RIICE will deliver until 2014 based on remote sensing recognition are
- Rice area maps in Southeast Asia
- Continuous observation of rice growth across Southeast Asia
- Actual rice yield information at harvest time - Rice yield forecasts before the season is complete

close X

Earth Observation & Data Collection

Through satellites by the European Space Agency (ESA) and other providers, RIICE is scanning the earth surface in Southeast Asia using radar-based remote sensing technology. This technology has the ability to detect and interpret change on the earth's surface without direct observation.