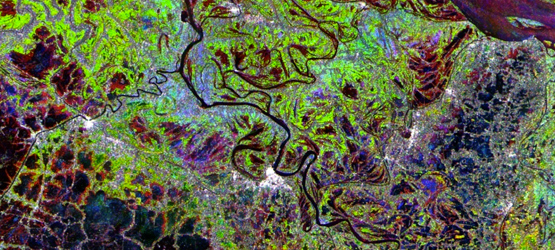 The data-sets captured by the satellites are processed through a dedicated software that decodes the remote sensing data and makes them readable as maps. The key mapping and forecasting products that RIICE will deliver until 2014 based on remote sensing recognition are
– Rice area maps in Southeast Asia
– Continuous observation of rice growth across Southeast Asia
– Actual rice yield information at harvest time
– Rice yield forecasts before the season is complete
These products will be available for the stakeholders of the participating countries through a WebGIS portal.
(Image: sarmap)
How are rice areas being mapped?

The basic idea behind the generation of rice acreage using radar data is the analysis of changes in the acquired data over time. Measurement of temporal changes of SAR response due to the rice plants phenological status lead to the identification of the areas subject to transplanting / emergence moment and the rice growth. The rice acreage statistics are stored in map format showing the rice extent and, in form of numerical tables, quantifying the dimension of the area at the smallest administrative level - typically village unit - cultivated by rice. These products are linked to district, region, province and country, so that statistics on any of these administrative units can be produced. The figure shows a typical output.

Rice yield prediction is performed by combining remote sensing, in situ, climatic data and an Agro Meteorological Model. Production (t), finally, is simply calculated by combining yield estimation (t/ha) and the acreage (ha) derived from the radar data.

Which rice maps are RIICE delivering, and what do they show?

In a first instance, RIICE will generate two maps: a.) a rice extent map and b.) the actual rice as observed in 2011.

a) Rice Extent Map
The Rice Extent Map is generated by considering multi-year archive medium resolution (100m) ENVISAT ASAR data. It provides at national level the rice extent, and whenever needed, to identify the different rice crop seasons/cultivations. Below are examples showing the Philippines and Bangladesh.

b) Actual Rice Area Map
The Actual Rice Area is generated by considering high resolution (15m) ENVISAT ASAR and ALOS PALSAR data. It provides from local to national level the rice area during a selected rice crop season, and whenever needed monitors the rice phenology along the whole season. The map below shows rice area in Leyte, The Philippines in 2011.

How will yield forecasts be modelled?

Rice yield information will be based on a crop growth simulation model that estimates rice yields based on: SAR imagery for planting dates and crop growth rate information; current and historical information on daily weather conditions and soil, and crop management and variety information. These yield maps will be used by RIICE partners to model a yield index which can later be made the triggering basis for an insurance product.

Who will model rice yields?

The rice crop growth model will be based on Oryza2000, a model that simulates rice growth under different environmental conditions. The input data for Oryza2000 are generated by sarmap, IRRI and RIICE national partners and the results are validated by RIICE national partners by means of crop cut experiments across the target regions. Oryza2000 is used to estimate yields after harvest and also to forecast the expected yield before the season is complete. Forecasting yields require a blend of current season information on crop growth rate and weather and "forecasted" weather – derived from historical averages from weather stations. This forecasting component is critical for crop loss estimates in the event of a flood or drought.

What can yield information be used for?

Gaining better information on rice crop growth can address several problems, in particular:

it can help governments and other stakeholders to adapt their economic policies, such as making decisions on importing more rice if a food crisis could be imminent or exporting more if it is felt that rice yields will be sufficient;
it can enable relief organizations to better anticipate and coordinate relief efforts in the wake of a natural catastrophe;
it can provide the technical backbone of an insurance solution where risks of yield losses from the rice smallholders are transferred to the insurance market.